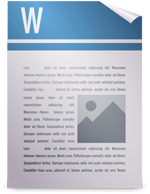 Word processing has emerged to be an adequate service for improving document quality in every organization. Presentation is an important factor that needs to be considered while preparing a document and we are here to assist you with the related needs. Offshore India Data Entry, a leading offshore BPO company, renders the beneficial support to make your documents well-organized and perfect. Our dedicated professionals with greater proficiency are capable of processing all kinds of business documents including manuals, reports, questionnaires, newsletters, publications, financial reports. resume, etc. Our team ensures to format and process all the documents, regardless of size and volume, with complete accuracy and consistency.
The Foremost Word Processing Services Offered at Offshore India Data Entry:
---
Editing and formatting – This stage includes the checking and verification of sentence structure, workflow, phrasing, formatting, and document conversion.
Proofreading – This is a crucial service encircling the word processing service wherein our team ensures to check the spelling, punctuation, style change, and typographical errors.
Desktop publishing – This includes the processing and formatting of reports, proposals, brochures, newsletters, legal documents, book manuscripts, and much more.
Indexing – Our indexing service associated with the word processing comprises creating a table of contents and table of authorities to make the retrieval of a specific content easy.
Other Word Processing Related Services are:
---
Database management
Content and style formatting
Report processing
Book typing
Page numbering
Image placement
Adding bookmarks and hyperlinks
Document compilation
Web-based word processing
Rendering the cost-effective word processing service without any compromise on quality is our prime motive while attending the needs of our global clients.
Benefits of Integrating our Word Processing Service into our Workflow

---

1. Better and efficient reliability of documents
2. Eliminating the errors along with delivering tailored documents
3. Enriching output quality with minimized redundancy at low-cost
4. Easing the production process and maximizing productivity
5. Checking of whether the fonts, headers, paragraphs, and numbering are done in a streamlined format
6. Our experts will make the document visually-appealing
7. Excellent quality check and delivery of result within the stipulated time
8. Abiding by the industrial data security and confidentiality measures



To get a free quote on outsourcing word processing services, feel free to contact us or send a mail to [email protected]