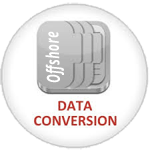 Our service includes conversion of business data into electronic format like HTML, which is neutral platform and has tremendous advantages. Offshore India Data Entry can input any type of data and develop data structures, creating databases for SQL Server and Access including, triggers, indexes and stored procedures. Our team of data conversion professionals can employ various data conversion tools to convert the electronic data from its native format.

Data Entry Services convert unstructured content into any other structured information format like, XML, HTML, SGML etc quickly, cost-effectively and accurately. Offshore India Data Entry can input any type of data you have, saving your time and money as we are the world's leading provider of data conversion services.
Quality Benchmark
Offshore India Data Entry Services infrastructure is designed with multiple layers of technological and operational redundancy that helps to reduce risk and increase responsiveness to your evolving needs. Our technology-driven work flow makes it easier to execute large projects and simplifies complex conversion projects. We follow a planned approach for all our client projects, employing the advanced technology and tools to meet the quality benchmark. All the projects are handled using an array of conversion software, real-time tag parsers and validates, and many other different content processing tools Offshore India Data Entry have a web application development team who develop custom tools, applications and equipments that develops a powerful data processing environment to convert data in any digital format on a large scale.

Simple data conversion services
Offshore India Data Entry services allowing us to convert to and from virtually any format, including:
Document Conversion
XML conversion
SGML Conversion
HTML Conversion
CAD Conversion
Catalog Conversion
Book Conversion
PDF Conversion
Offshore India Data Entry Service Help:

Digitize and structure data into useful information
Protect your data and prevent any loss of data
Clean and refine data and remove redundant data
Converting complex and huge volume of data into intelligent information
Efficiently save data for future needs.

Our key factors of success include

Strong focuses on quality and accuracy
Use State-of-the-Art tools technology
An enthused workforce available around the clock
An in-house web application development team capable of developing custom data conversion tools
All these factors make it much simpler to undertake multifaceted sizable projects. It enables a reduced risk rate. It further improves the overall efficiency of business activities. Our in-house development develops tools enable conversion of data in practically any format on a grand scale.

Please ask us for a quick no obligation, Contact us, if you are interested in our service.