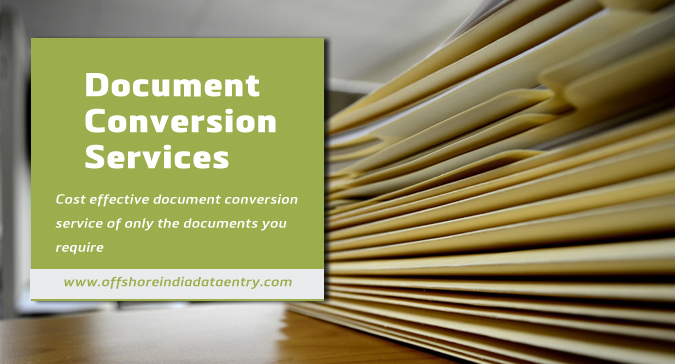 Cost effective document conversion service of only the documents you require
Document conversion is the task of transforming or changing a document or file or format to other forms of document that generally permit the document or format or file to can be easy to read in different applications. Such documents can be transformed into other source of document of formats, purchaser formats or structured data formats. The conversion of these types of files are generally done by the application which is made with, although there are several other third party applications or tools or software available by which one can do it. In the majority of file formats can be deconstructed with a hex editor. As alternative conversions it can be presumed automatically by the web services which add to document applications. As a matter of fact conversion tools or applications can also be merged with the delivery constituent; for instance that publishes and transformed data into database or another systems. As example, converting .doc to .odt, converting .ppt to .odp, converting .shw to .ppt and converting .doc to .mp3 etc.


Offshore India data entry only focuses on quality
---
The job of transforming any scanned paper to some helpful or functional electronic formats is an essential application for the purpose of document conversion. Generally, documents are scanned to other image formats, have many clampdowns, for instance, large size file, not possibly of context search and reuse. Conversion services have been improved a profound knowledge as well as experience in the area of document imaging, permitting us to furnish substantial value back to all of our clients. The process naturally involves very difficult combination of speed, skills, dedication, consistency and quality control. We, at Offshore India data entry very much dedicated to our clients, to their projects, be it small one, medium or a large project. We have highly skilled and trained professionals in the respective area who are well-aware to complete the error-free project in time.


We count our experience
---
The document conversion services are composed of digitally scan paper, fiche files or documents, microfilm etc. Our highly experienced professionals for converting documents including other data entry and data processing services provide high quality document conversion services for the purpose of Paper documents:
Microfilm records or documents
Aperture cards conversion
Engineering drawings
Back file conversion
Paperless solution and management
Day forward conversion
Why Offshore India is unique for IT enabled services?
---
We provide bunch of outsourcing services underneath the same umbrella, these can be categorized with data entry services, data processing services, data conversion services, scanning and indexing services, web research services and transcription services. Our teams have possessed couple of years of IT and IT enabled experienced, conscientious team manages all data entry as well as data processing job assuring absolutely flawless and high quality job with reliability and trustworthiness. We understand the importance of your data and its value; maintain your data privacy and policy as well.

Our clientele are from different industries such as, hospitality, retail, administration, banking, manufacturing, marketing, education, healthcare, finance, insurance and more. Our outstanding services not only help your business to compete with your competitors but also assist you to rise above them. We assure you high quality service in affordable rates. Our services will surely improve your business competency and productivity and helps you to stay ahead among others.
Contact us or send your requirements at [email protected]