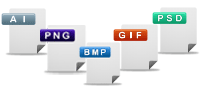 Are you looking for any company to assign image conversion tasks ? You can outsource image conversion to us, leading image conversion BPO company named Offshore India Data Entry. We are working for years and providing high quality of image conversion outsourcing services all around the world. We do convert an image into other formats, raw images into images and we also convert documents into images. Our Image conversion professionals are highly experienced and motivated to work on any type of image conversion service. We offer 24/7 customer support to assist our customer at every step of work needed. We deliver the completed projects on or before time to our clients so that they must get maximum benefit.
Our Image conversion services involve:
Converting image into text format
Converting image into PDF format
Converting image into XML
Converting image into database
Converting image into XLS
Converting image into CSV
Converting Doc to image
Converting PDF into image
Converting XLS or CSV into image
We work for better and assure you for enhanced quality of output. We are expertise in providing quality process without any data loss or data misplacement. We also cover other image conversion formats such as jpeg, png, tiff, bitmap and more. We make use of the latest tools, techniques and data transfer methods to offer you the best services and productivity in industry.
Why you should hire Offshore India Data Entry for image processing needs ?
Team of experienced professionals and industrial experts
Quality output with high productivity and quick turn-around time always
Support various data transfer methods
Support all types of image formats
Economic rates
Data security and confidentiality
What you have to do to fulfill your image conversion ?
Send us your data conversion requirement and sample images
Our team will evaluate your data conversion requirement and suggest the best methods.
We will execute a free trial with the provided requirements and images
Accept your feedback
We will fix the project cost and delivery time
Allocate a team for your project
Final delivery of project
Suggestions and revisal if any
Key Factors and Features of Image Conversion Services
High degree of accuracy
International standards
Proven data validation process
Advance technologies
Data security
Error free processing of images
Good turnaround time
Good quality scanned copies etc

If you have any queries and need any help for image conversion then feel free to contact us or you can even send us your requirements at [email protected]