Offshore India Data Entry

- Form Processing Service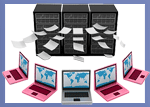 Managing the varied kinds of business forms is a crucial and the most challenging activity for a business organization. Offshore India Data Entry, with its team of professional experts, ensures to execute the finest and affordable form processing services. Our team makes the best use of the advanced set of technologies and software tools to digitize the numerous handwritten forms on a daily basis.

Outsourcing the form processing service to Offshore India Data Entry will enable you to cut down the operational expenses of your firm and will help you to focus on core activities. Our efficient form processing service will extract the crucial data from different entry fields and convert them into a desired electronic format. The data is stored in a secured format which is made highly accessible from varied locations.
The Top-notch Form Processing Services offered by us:
Medical Forms Processing

Application Forms Processing

Shipping Forms Processing

Census Forms Processing

Insurance Claims Forms Processing

Survey Forms Processing

Market Research Forms Processing

Legal Form Processing

Immigration Form Processing

Subscription Forms Processing

Rebate Forms Processing

Invoice Forms Processing
Our professional team streamlines the form processing services wherein we capture, interpret, and process the data so as to maintain the workflow. Our team possesses the in-depth knowledge regarding varied kind of data formats including HTML, JSP, ASP, and much more.
Reasons to Choose our Form Processing Services!
Using the best infrastructure well-possessed with the robust data security measures
Incorporating the advanced OCR technology to capture the images and format the forms
Offering personalized round-the-clock support system
Implementing a smoother workflow in handling all sorts of business forms
Quality-enriching, precise, and affordable form processing services within your reach
If you want to explore our outsourcing invoice and form processing services, feel free to contact our team at [email protected]