Offshore India Data Entry

- Offline Data Entry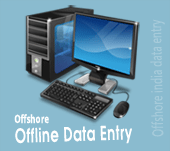 Offshore India Data Entry renders a comprehensive set of economically priced offline data entry services to all our worthy global clients. Though there has been a constant rise towards the approach of digitization, yet, a majority of the documents in many business organizations are still available in a non-digital format such as insurance claims or any paper records. In an instance of gathering the data from non-electronic sources (without the need of internet), the concept of outsourcing offline data entry services should be applied.

Topmost Offline Data Entry Services Offered at Offshore India Data Entry:
Offline catalog data entry

Offline data entry for mailing lists

Offline data entry for surveys

Offline data entry of resumes

Offline form processing

Offline business card data entry

An offline collection, organizing, sorting, indexing of data

Offline data entry of insurance claims

Offline data from one format into another

Offline eBook data entry into database programs

Offline data entry for websites
The implementation of offline data entry services in business has been existing for many years. We execute a double entry quality check process to detect the presence of duplicate entries or any error.

We possess the effective team and state-of-the-art infrastructure to manage all kinds of outsource offline data entry services, irrespective of the complexities involved in the process.
Offline Data Entry Workflow
Step 1 – Accepting the input data from different sources such as handwritten documents, scanned images, or hard copies


Step 2 – The data is later on entered into a client-prescribed format such as an Excel spreadsheet or a Word document


Step 3 – We perform both manual and electronic quality check to ensure there isn't any flaw or inconsistency in the data


Step 4 – Once the final process is done, the files are saved into an editable format, for the delivering of the result to a client
Why Prefer the 'Offline Data Entry Services' of Offshore India Data Entry?
• Possessing years of industrial experience, employing a team of 350+ trained and professional data entry operators and analysts
• Offering the service as well as attending the client queries on a 24*7 basis without any hassles
• Adhering to the Non-Disclosure Agreement and data security policies to safeguard the privacy of our client's business documents
• Accurate and consistent services are offered at a cost-effectively designed budget
For further support to accomplish on-time outsourcing offline data entry services, drop us an email at [email protected]