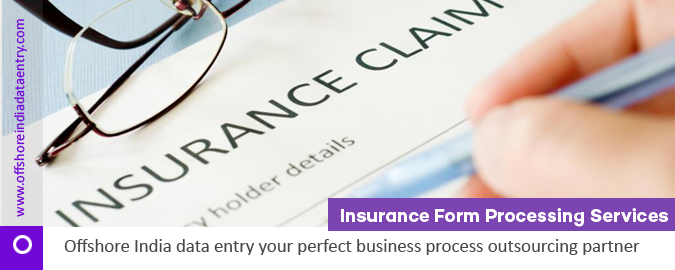 Offshore India data entry your perfect business process outsourcing partner
Almost all insurance organizations have to repeatedly search for new techniques to run their business properly in the field of insurance. They need to maintain the up-gradation with up-to-date technology to meet and satisfy different types of customers. To reduce the cost and to manage the wide range of services and the information related to insurance form scraping and its database an insurance company need to outsource its job to a reliable and trustworthy IT enabled service provider. Offshore India data entry is one of the companies who provide insurance form scraping data entry services, to its clients. The company is best in the world of outsourcing services at present.


Why you choose to outsource to Offshore India?
---
Our highly skilled insurance form scraping data entry professionals give value to our client's insurance companies, those companies are highly data disposed customers who are in demand of different designed insurance schemes which meet the particular purpose of the customers. Offshore India data entry offers a bunch of complete
data entry services
including online and offline data entry, data processing, data conversion, scanning and indexing, data development and migration, web research, virtual assistance services and more with cent percent quality and accuracy.
Benefits of hiring Offshore India data entry for Insurance Form Scraping
Offshore India data entry professionals are totally motivated and dedicated to the clients and these highly skilled and trained professionals are the single point of support for all our clients.
Latest technologies are used by Offshore India data entry not only takes care of your form scraping service regarding insurance for your valuable customers but also proves 100 percent quality work with reliability and trust worthy customer support whenever and wherever you need.
Up-to-data technologies used by Offshore India data entry helps to complete high volume of database with accurate data entry services without any extra labor.
We used OCR or ICR technologies to give your better data entry services.
We provide real time analysis and reporting about your project and conduct face to face meeting from both the end if required.
Our customer service is open for 24*7 and 365 days for your enquiry, whenever and wherever you required. You can ask any question in clearing your doubt regarding your project.
We trust on reliability and trustworthiness. We value our customers to give best of the bests service for better business solutions.
Our insurance form scraping services includes financial administration for healthcare, healthcare insurance claims and scraping forms for uniform billing, disability insurance claims and scraping forms, data entry for medical claim, insurance claim and scraping from data entry for critical illness and so forth.

Offshore India data entry provides you quality and accurate data entry services in all respect by fully experienced professionals in different domains who do collect data from your given hard copy or soft copy and transferred the date to your required electronic format.  Compete with your competitors and raise your business head high above them,we assure you to provide your business with high productivity and competency beyond your expectations.
Contact us
or send your requirements at
[email protected]