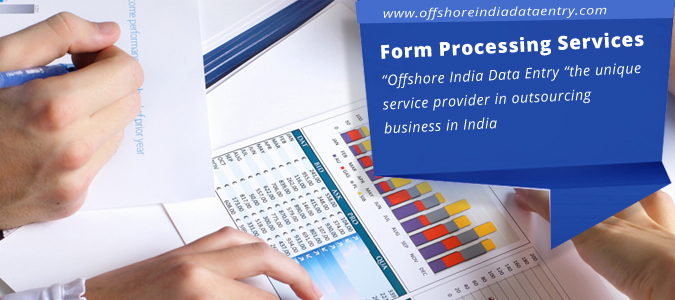 "Offshore India Data Entry "the unique service provider in outsourcing business in India
Outsourcing web business is the most popular business in the online market. Outsourcing business actually deals with different kind of data entry services. In outsourcing business process you can see different uses of modern technique for making the best output from this business solution. This is the best profitable business now in days. Form Processing Services is one of the most important parts of the Outsourcing business. Our outsourcing company, Offshore India Data Entry is one of the best companies across the India, among the other outsourcing business farms. We achieved reputed rank around India due to our unmatched services to any kind of industries or institutions or agencies.


Outlook of Form Processing Services
---
These days were gone by when every official works were done manually. Now this is the world of technical methods with fast and speedy mode. Form Processing Services is one of the latest techniques to transform the manual information of forms into electronic format or stored database. In this process the information from paper or file or form are accumulated by someone and he or she transforms all the data into electronic device. This process is usually taken place by hand power or in an automatic way. Actually the raw data is filled up by human beings and then the raw data are abducted from the hard copies and these data are inputted into the storage database or into the other electronic set ups.


Advantage of this process
---
Form processing supports an entire backup system to your valuable data for life time with scanning methods. This process even provides a throughout calculation and analysis of the raw data without any fatal mistake. This electronic form processing device is capable to handle a huge range of work per day, such as hundreds of scanned data copies per day or thousands of scanned data copies per day.


Offshore India Data Entry in this form processing arena
---
Our company Offshore India Data Entry offers best services to our clients. We have been working for different kinds of industries or human resource companies, educational institutions, hospitals or medical health insurance companies to offer this form processing services with best technological supports. Our efficient team members are ready to provide standard services to clients. We offer hundred percent errors free services within short time limit. Our team members have 50 to 60 typing speed for data entry services. We follow some methods to offer you this service. These are
Optical character recognition process.
Optical mark recognition method.
Process of Magnetic ink character recognition.
Barcode recognition process.
Intelligent character recognition method.
Several Benefits to Hire Our Company
---
We have possessed some qualities which make us unique among the other outsourcing companies. Our characteristics are
We follow the guideline which is given by our clients.
We use latest technology to offer best quality services in an inexpensive price.
We always do our projects within deadline.
We provide sample work to our clients.
We offer excellent customer care services.
We feel proud to help you in any kind of outsourcing projects. We are always at your service with our expert team members with hundred percent desired services from our end. We provide cent percent attention to handle each and every project which we get from our clients. We focus on each and every detail of information which is needful to give the utmost satisfaction to our clients.And that is the reason behind our success which assures the long term partnership with our different kinds of client from various types of work fields.
Contact us
or send your requirements at
[email protected]