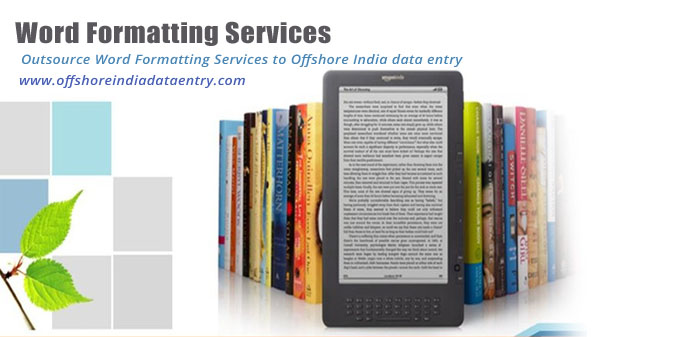 Outsource Word Formatting Services to Offshore India data entry
Are you thinking to make your word document look great? Good, your answer is very simple here. Outsource your word formatting services to Offshore India data entry with cent percent accuracy, reliability and trustworthiness. Offshore India data entry is highly dedicated and motivated resource which can provide your ultimate word formatting assistance. We are well-equipped with highly skilled and trained professionals who possess the expertise in their respective area.


What kind of Word Formatting service provides by Offshore India?
---
Offshore India can completely alter the formatting and the layout of previous word documents and build it look exactly great and attracting. In point of fact the document formatting services provided by the enterprise can be taken out for all formatting of the previous files of documents and sue customized its styles to a huge number of files and documents. Offshore India got highly skilled professional in various domain such as data entry, data processing, data conversion, data migration and development, web data entry, web research and more under the same umbrella, including word formatting service with quality and satisfaction.


Why should you outsource your task to Offshore India?
---
As a matter of fact, the work volume of files and documents you have for the purpose of formatting, you need to have time, labor and you have to invest lots of money, but if you outsource your job to us, our dedicated and skilled professional team will help you a lot for saving your precious time that you can use in other productive task. Additionally you can also avail of some specialized services at a very economical rate with Offshore India data entry. Let us have a brief look why we are unparalleled to provide you word formatting service.


Our price is affordable and negotiable.
Our service is just extra-ordinary in terms of quality.
We always make ourselves up-to-data with the arrival of latest technology.
We complete the project mentioned the deadline given by our clients, be the project is small, medium or large in size.
Our customer support is open for 24 hours and 7 days, you can call us to know the status of your project, whenever and wherever you need.
We generally provide day to day project analysis and reports.
We arrange face to face discussion regarding the project for better understanding of the business.
Our high end IT enabled service is very transparent
We are well aware about the privacy and policy of our clients' assignments.
Benefits of outsourcing MS word formatting services to Offshore India
---
The advantages of outsourcing of word documents formatting are very essential for all organizations. Some of the essentials are described below.


You can save time, money and labour.
You can use the time for other productive works.
You can get very attractive customized template based on your particular requirements.
You can be benefited of highly skilled and trained professionals without having it in your company. You need not to hire it; you can get in affordable rates.
Our outstanding services help you to compete with your competitors and also assist your business to rise above them. We assure you to bring your business and will improve with high competency and productivity, beyond your expectations.
Contact us or send your requirements at [email protected]