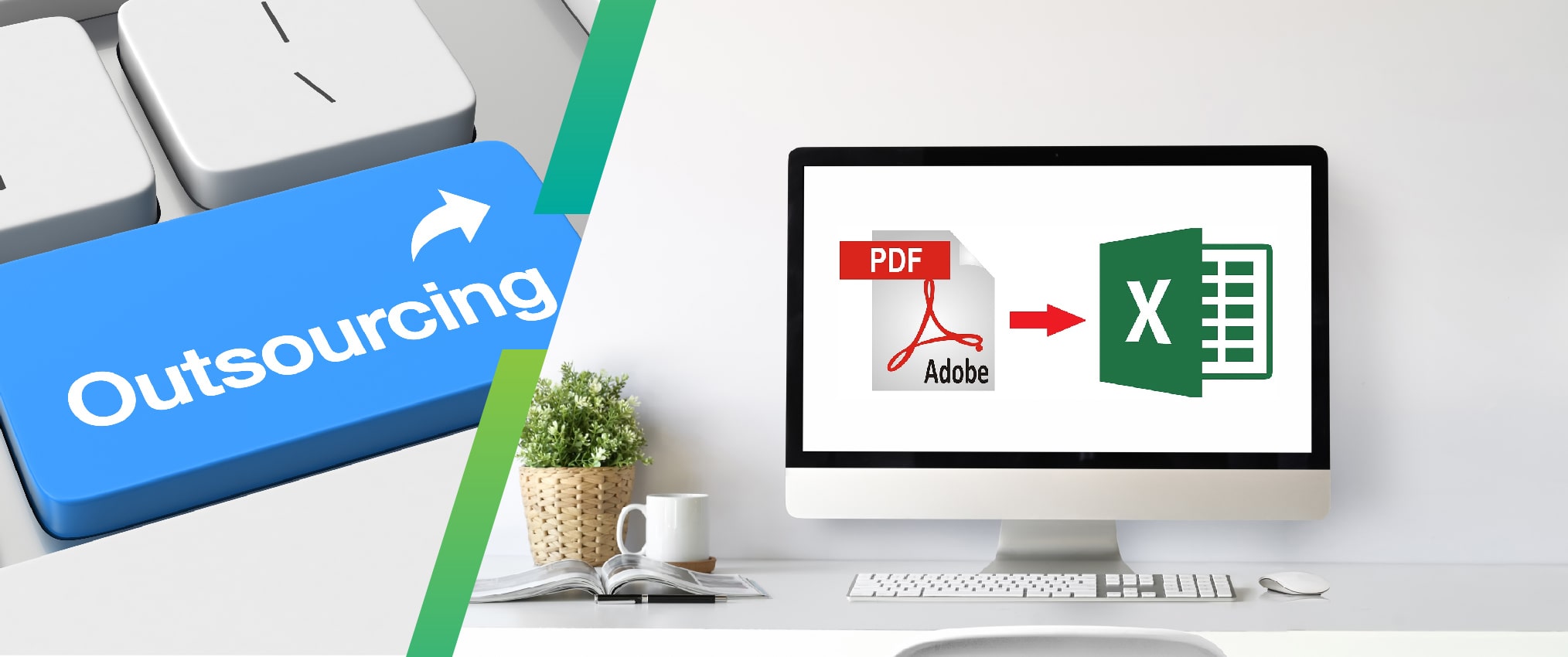 Would you like to know why PDF to excel data conversion matters in businesses? Well, it has a simple answer. Dealing with bulk data is a terrifying process. The presence of expendable and inconsistent data eats up huge storage space both in the systems and your office rooms. This situation gives birth to the need for  data conversion services. While talking about the need for PDF to Excel data conversion, it is a bit tricky. Companies usually convert their data to make the processing and analysis procedure of data more efficient. But the process is not at all as simple as the outcome will be.
Nowadays, several online converters are available. They are fast and easy but not safe for an official purpose. Also, when it comes to the conversion of bulk PDFs, it is not at all considerable. Companies were doing the process in-house who eventually learned it was a total waste of time, effort, and money. That is how outsourcing data conversion services came into the picture. The process was more effortless and resulted in flawless conversions. The presence of proficient conversion specialists makes the PDF to excel data entry or conversion services easier in outsourcing firms. Let us see why outsourcing PDF to excel data conversion services are necessary.
Importance of Outsourcing PDF to Excel Data Conversion Services
Quality Conversion of Data
The correctness of documents is crucial if you have to make the most desirable decisions out of them. While assigning your small in-house team to deal with your bulky PDFs to convert into excel formats, it would squeeze them to stick to the deadlines rather than the quality. While, if you choose to outsource data entry services and data conversion services, you will be able to attain an extreme quality conversion with the use of the latest tools and top-notch resources.
Data integrity risks are always there while a bulk data conversion takes place. There would be critical management decisions to be taken based on this data. Hence, it is extremely important to keep the data integrity. The risks on data integrity can be only reduced if you are capable of implementing error detection software and are well aware of data integrity and the risks could come into their way. Well, an outsourcing team is well equipped for data integrity.
Privacy and security is always the most expected factor while we are dealing with the confidential data. But it has become a tough task as all the businesses grow online, and the number of hackers around the globe is rising as it is. But as you outsource the service to the best service provider, you employ the most advanced and proven Cybersecurity measures that they've adopted. Also, they would care much more about backups and security of the data.
Consider this as a major reason that compels companies to get out of their in-house and choose to outsource PDF to excel data entry or PDF conversion services. The availability of extremely capable manpower at reasonable rates makes it cut the expenses up to a level. Just think of hiring a team just for this back-end need.
These crucial factors lead a company to outsourcing PDF to excel data entry or conversion of their firm. Anyhow it is sure that for a small or medium firm, outsourcing bulk data conversion will be the right choice.
Offshore India Data Entry is a data conversion outsourcing firm that offers the topmost conversion services with a handful of benefits. Our PDF to excel data entry and data conversion service is something well known around the globe. If you are searching for a service provider who can promise you the utmost security and reliability for data conversion services like document conversion, book conversion, image conversion, etc. this is the right place.
Drop us a mail to know more about our services at [email protected]