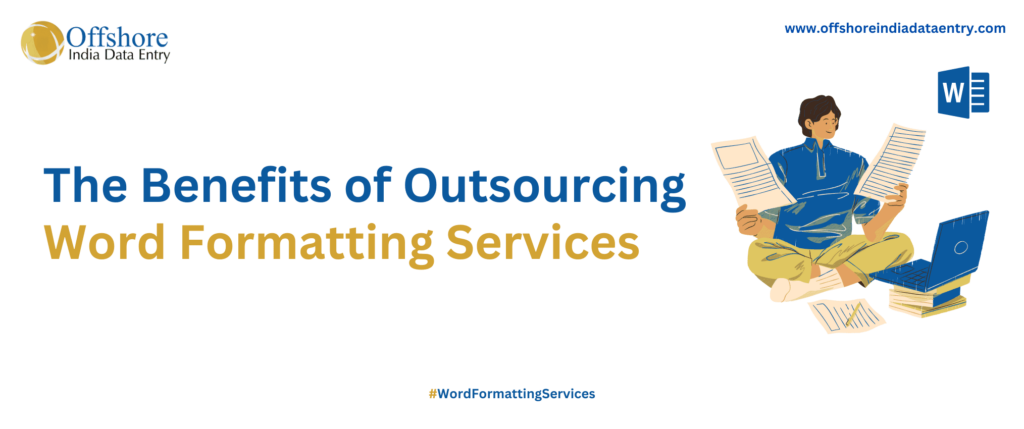 Microsoft Word remains one of the most ubiquitous word processing product used in offices around the world. With the rise of cloud-based Office 365 and Microsoft OneDrive integration, Word has become an essential productivity tool for businesses of all sizes to create standardized, professionally formatted documents.
As Word's capabilities continue to evolve, the demand for advanced Word formatting expertise has increased as well. Rather than utilizing limited in-house resources, many companies are outsourcing their Word formatting needs to specialized business process outsourcing (BPO) providers.
Outsourcing Word formatting services offer numerous benefits for businesses looking to improve document consistency and enhance formatting quality without overburdening internal staff. This article will explore the key advantages of partnering with an experienced Word formatting services provider.
Access Specialized Formatting Expertise
Outsourced document formatting services employ professionals specifically skilled in applying Word's complex and powerful formatting features. These include styles, templates, multi-level lists, tables, headers and footers, page layout, images, and more.
The word formatting experts follow best practices and guidelines to ensure formatted documents have a consistent, polished look. Their expertise in both Word's capabilities and formatting techniques saves internal staff significant time and effort while providing professionally formatted, compliance-ready documents.
Some key benefits of accessing outsourced formatting expertise include:
Improved document quality – Word formatting experts can create Word documents that look great, are highly readable, and uniformly align to brand style guidelines. Their work elevates document quality compared to in-house staff with general skills.
Consistent formatting – Outsourced services apply consistent styles and formatting across all documents for a cohesive look and feel. This level of consistency is difficult for in-house teams that split their focus on multiple tasks.
Compliant documents – Experts ensure formatted documents meet company policies and brand guidelines through the use of approved styles, fonts, logos, and visual elements. This prevents compliance issues.
Expert-level capabilities – Outsourced services unlock powerful formatting features in Word that in-house staff may underutilize or lack expertise in, like section breaks, columns, and tables.
Improved accessibility – Formatting experts optimize document accessibility through proper use of styles,headings, alt text, color contrast, and other techniques to meet ADA and company requirements.
Quick Turnaround Times
Outsourced formatting services can rapidly format Word documents due to dedicated resources and established processes refined over years of specialization.
For time-sensitive projects or large batches of documents requiring fast turnarounds, outsourced services can complete the formatting work much quicker than in-house staff juggling multiple other responsibilities and competing priorities.
Accelerated turnaround keeps projects moving forward to meet tight deadlines and prevents formatting bottlenecks from slowing down critical workflows.
Some benefits of the faster turnarounds include:
Faster project timelines – Quick formatted document delivery prevents delays while waiting on internal teams to complete work in between other tasks.
Rush formatting capacity – Outsourcers have the capacity to handle urgent rush jobs by shifting resources unlike in-house teams at full capacity.
No queues – Dedicated resources mean no queue of requests waiting to be formatted, so turnaround begins immediately.
Round-the-clock work – Some outsourcers offer 24/7 operations, enabling overnight turnarounds impossible for in-house teams.
Scalability – Outsourced providers can add staff and resources on demand to match spikes in formatting requests and maintain speed.
Latest Formatting Tools and Techniques
Outsourced formatting providers stay continually up-to-date on Microsoft Word's newest features and capabilities through regular training. They can leverage the latest advancements in Word to create modern, professional documents using the most current tools.
Their expertise in Word's evolving features allows them to deliver high-quality output not easily achievable by in-house staff less focused on Word formatting skills.
Some of the newest formatting tools and techniques commonly used by outsourcers include:
Column formatting – Apply columns, section breaks, and text wrapping to reports, proposals, guides, and other documents.
Tables – Professionally format tables for visual appeal, readability, and accessibility using styles, alignment, and spacing.
Motion graphics – Add polished animated charts, graphs, and diagrams that grab attention in presentations.
Non-destructive section breaks – Update sections independently without impacting overall document pagination and layout.
Template inheritance – Create master templates with styles that cascade into individual documents ensuring brand consistency.
Accessibility checker – Run the built-in checker to scan documents and implement required accessibility improvements.
Reduce Internal Workload
Outsourcing document formatting alleviates the administrative workload on internal teams related to formatting Word docs. Staff are freed from this tedium to better utilize their time and energy on higher-value core business functions and priorities.
Some examples of how outsourcing word formatting to bpo companies lightens internal workload:
No distractions – Employees avoid context switching between formatting and primary responsibilities that disrupts productivity.
Improved focus – With formatting offloaded, workers can dedicate focus to projects that align with company objectives and strategy.
Flexibility – There is no longer a need to juggle schedules and battles over resource time for formatting tasks.
Scalability – Internal teams don't get overwhelmed with seasonal spikes or large backlogs of documents requiring formatting.
Specialization – Staff avoid spreading themselves thin trying to be formatting experts on top of core roles.
The net result is boosted team productivity, efficiency, and job satisfaction when relieved of repetitive formatting tasks not aligned with their strengths.
Cost Savings
Compared to an in-house team, outsource Word formatting services costs much less in terms of salaries, infrastructure, software expenses, and other fixed overheads:
No salaries – Avoid the ongoing expense of salaries, bonuses, benefits, payroll taxes, etc. for dedicated formatters.
No facilities – Save on costs related to office space, computers, etc. for formatters. Some outsourcers are fully remote.
No training – Outsourcers maintainformatter skills at their expense rather than expensive Word training for in-house employees.
Pay-as-you-go – Only pay for actual work performed rather than carrying underutilized staff during slow periods.
Scales down – Easily reduce costs by cutting back outsourcer use versus layoffs, severance, etc. with employees.
The outsourcing model converts fixed formatting overheads into a flexible, scalable variable cost providing greater budget efficiency. Companies pay only for work needed versus carrying full-time employees.
Scalability On Demand
A key benefit of outsourcing is it provides access to an on-demand pool of formatting resources. Services easily scale up as workload increases and back down as needs decrease. This flexible capacity handles fluctuating formatting volume without hiring permanent staff.
Some examples of outsourcing's scalability include:
Seasonal adjustments – Scale up for periodic spikes in formatting requests, new product launches, annual report issuance, etc.
Temporary needs – Access extra resources for one-off needs like a large document rebranding effort or acquisition integration.
Unexpected work – Quickly ramp up to handle unplanned formatting from new initiatives, revised timelines, regulation changes, etc.
Downsizing – Easily reduce resources as business needs or budgets contract.
Specialized skills – Add niche expertise like financial document formatting without hiring specialized staff.
This on-demand scalability provides greater business agility by precisely matching formatting capacity to ever-changing needs.
By leveraging outsourcer expertise, accelerated turnarounds, the latest capabilities, workload reduction, cost savings, and scalability, companies can elevate document quality while eliminating formatting bottlenecks. The combination of skilled resources and process efficiency makes outsourcing Word formatting services a strategic choice for organizations of all sizes.
Want to Gain a Competitive Edge in the Global Arena? Outsource Word Formatting to BPO Companies in India!
Looking to gain a competitive edge in the global arena? Outsourcing word formatting services to India is a great way to do it. Indian companies offer a wide range of word formatting services at lower prices and faster turnaround times than in-house teams. They also have access to a large pool of word formatting experts, ensuring that your documents are formatted to the highest standards.
In addition, Indian companies are known for their strong work ethic and commitment to quality. They will take the time to understand your needs and deliver the results you expect.
So if you're looking for a reliable and affordable way to outsource your word formatting needs, India is the place to go. Contact Offshore India Data Entry today to learn more about how they can help you achieve your business goals.