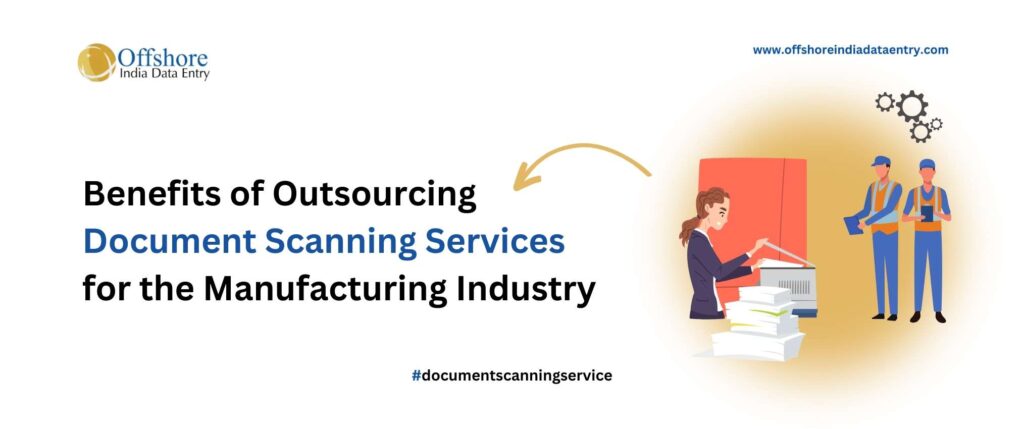 As the manufacturing industry expands globally after the pandemic, efficient document management remains a challenge. Juggling high volumes of records like invoices, manuals, and orders slows productivity over time. Without optimized systems, paperwork piles translate to costly delays and frustrated staff.
Outsourcing documents scanning service to offshore companies helps you converts physical files to digital formats streamlined in the cloud. This unlocks meaningful savings by digitizing storage and labor-intensive tasks. Visibility, security, and customer responsiveness also improve.
Document Digitization boosts operations immediately. Paper trails transform to searchable online documents on any device. Savings reach 30% through eliminating paper, printing, and storage. Compliance simplifies with encrypted cloud records.
Streamlining paperwork powers strategic advantages too. Ubiquitous data access fuels faster decisions. Internal and external collaboration strengthen through information sharing. Costs fall further as paper usage decreases and processes homogenize.
Outsourced scanning transforms manufacturing workflows to maximize performance in today's digital landscape. Physical document burdens shift seamlessly online through optimized third-party solutions. Industries gain the competitive edge of paperless, connected operations.
How Document Scanning Services Boost Manufacturing Productivity and Cut Costs
Managing extensive paper trails presents ongoing challenges for manufacturers. Outsourcing document scanning streamlines documentation and boosts productivity. Discover how document scanning delivers a competitive edge through maximized efficiency and cost management amid industry growth. Now let us have a deep look at those perks.
Makes communication with vendors easy
Contracts and service agreements are crucial documents in the manufacturing industry. As the business grows, the number of documents that it has to manage will also increase. What happens if you can't share a paper document that is essential to closing a deal? Most likely, you will lose that business deal, right?
Such a situation can be easily tackled if those valuable documents are scanned and stored somewhere in a digital format. To be more specific, the digitization of documents will help you share the essential documents with your vendors whenever you want.
Safeguards sensitive information
Securing confidential details about your customers, employees, and business is a pivotal factor for the manufacturing sector. You should be careful while handling these crucial documents, as your minor negligence can cause big harm to your business.
When you go for the scanning option for your documents, it will give you a chance to store your critical documents on computers. When the information is on computers, you can ensure their safety by protecting them with robust technologies. And you can also set passwords that will prohibit any kind of unauthorized access.
Improvement in Space Utilization
As the company grows with more business transactions and orders, the space that you need to store paper documents will also increase. If you are maintaining your records as hardcopies, you may require files, shelves, racks, etc. to keep them safe. But if you are choosing to store documents in digital format, you can overcome this insurmountable issue due to space. And use this space for some other requirements.
Thus, when you pick out a document scanning service provider for your business, it can contribute a lot to the smooth functioning of the business.
Quick access to information
When essential information is on paper, your in-house employees need to spend a lot of time finding it. This may create frustration and boredom among your in-house employees and take up their productive hours.
But when the documents are scanned and digitally stored on your servers with the help of BPO companies, it will be easy for you to capture information in a snap. To be more specific, you may only need to enter a keyword to locate the particular information you want.
Reduces operational costs
When the documents are in digital format, you can save a lot of expenses in various cases, like
Costs you need to spend on physical storage spaces
The amount you need to spend on purchasing shelves, files, racks, etc. to store such valuable documents
Salary you need to provide for those employees who take care of hard copies
Thus, it is always better to choose document services from a BPO service provider and avoid unnecessary expenses caused by hard copies.
Rise in Productivity
The primary goal of a company that belongs to the manufacturing industry is to produce products of top quality. Because it is the only way through which it can grab loyal customers for its products. But there are many processes and decisions that need to be taken to discover a product of high quality. If in-house employees are engaging in menial activities like document scanning, the company is actually losing productive hours.
Streamline Paperwork Burdens with Document Scanning Specialists.
If you partner with a document scanning service provider, you can save the valuable working hours of your in-house experts and thus make them focus on the core operations of your company. Let our document scanning service experts optimize your document management. Outsourcing frees internal teams to focus on core operations. Contact us today at [email protected], and we'll explain how our document scanning solutions minimize costs and boost growth for manufacturing organizations. Take your document processing digital with compliant, secure scanned documents accessible anywhere.
Partner with Offshore India Data Entry for expert document scanning services tailored to your industry's needs. Outsource paperwork burdens and unlock new potential for productivity as demand rises in the manufacturing sector.