Automated form processing helps improve the operations of a business, which ultimately results in growth and profitability. The ultimate goal of all business concerns is to improve productivity and thereby increase revenue. After all, productivity is not about getting a lot of things done over time, it's about getting quality work done with minimal effort and within TAT.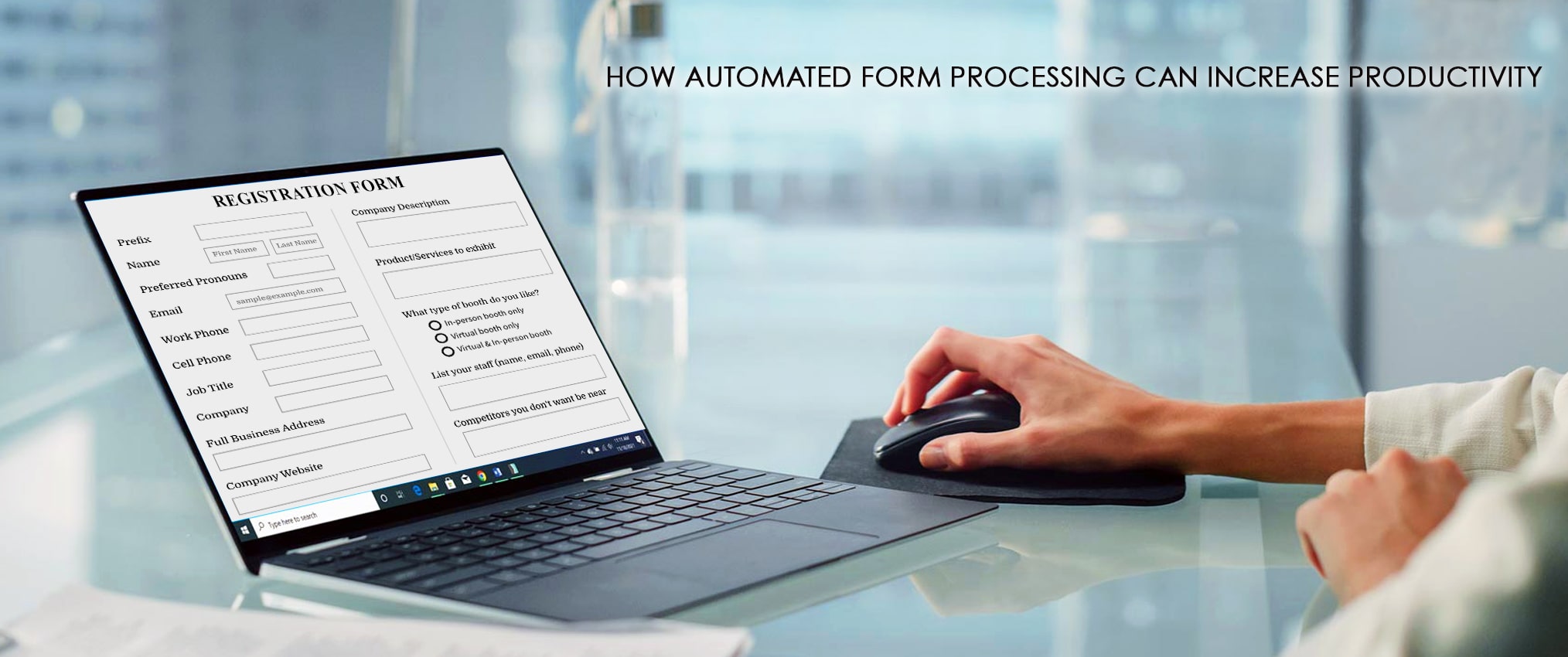 Automated form processing is the kickstart to a whole range of task automation. For example, a single automated form can automatically generate another document automation filled with form submission data. Accuracy is guaranteed at all times as it eliminates human errors.
Why Process Automation? 
Automated form processing helps the business to simplify its tasks by helping the in-house team to focus on the core activities such as innovation and development of new ideas, and processes. With document automation, organizations can transform their workflows to automate business processes, reduce boring tasks, and upsurge employee productivity. Thus by automating business processes, the business can improve its processes, ensure quality services, and delivery with TAT, and increase overall productivity. The automation of processes completes tasks that were previously manual processes.
Automated form processing saves your business time, eliminates costly errors, streamlines your processes, and helps employees complete their tasks faster with better results. With the help of workflow automation, businesses can ensure that their employees work more efficiently thereby experiencing an increase in productivity. Another benefit of process automation is that it can help improve management and increase consistency throughout the company.
The accurate approach to automating business processes can aid an organization to uphold control over its processes, moderate confusion, and errors, enhance communication, free up time and resources, and prevent employees from performing repetitive, and boring tasks. Using technology to manage automated processes can help you increase efficiency, increase productivity, and produce better quality work with quality and control.
It becomes easier for the executive to evaluate the performance of your staff because the executive does not need to monitor every step of the process or check in with each employee about their work and its progress. Process automation helps employees easily learn each task, the task they are responsible for, how to manage their work, and take responsibility when something goes wrong.
Workflow automation software uses rules-based logic to automate many common business processes, including finance, marketing, and human resources. In human resource management, process automation software feeds employee information into payroll systems, insurance policies, expense accounts, and other official systems you use for human resource tasks. Tasks related to paper processes can also be automated.
Companies have many automation and data capture tools to manage accurate data. Today, process automation provides new openings and ideas to help businesses streamline their workflow and increase productivity and revenue in the business. With the right tools and the right settings, automated form processing can drive productivity to business growth. It eliminates the waste of resources, whether it's time, money, paper, or talent.
Wrapping up
We Offshore India Data Entry, a business process outsourcing firm, provide complete coverage of form automating process at cost-effective prices to clients across the globe without any compromise on quality. We use form data extraction to ensure we deliver the best quality data within the TAT. Our professionals help to automate the workflow to ensure your core business tasks are done on time and with the right standards. We offer a variety of automation services that help your business save time and reduce the need for team members to take on administrative tasks.
Contact us or email us at [email protected] to know more about our automation services.