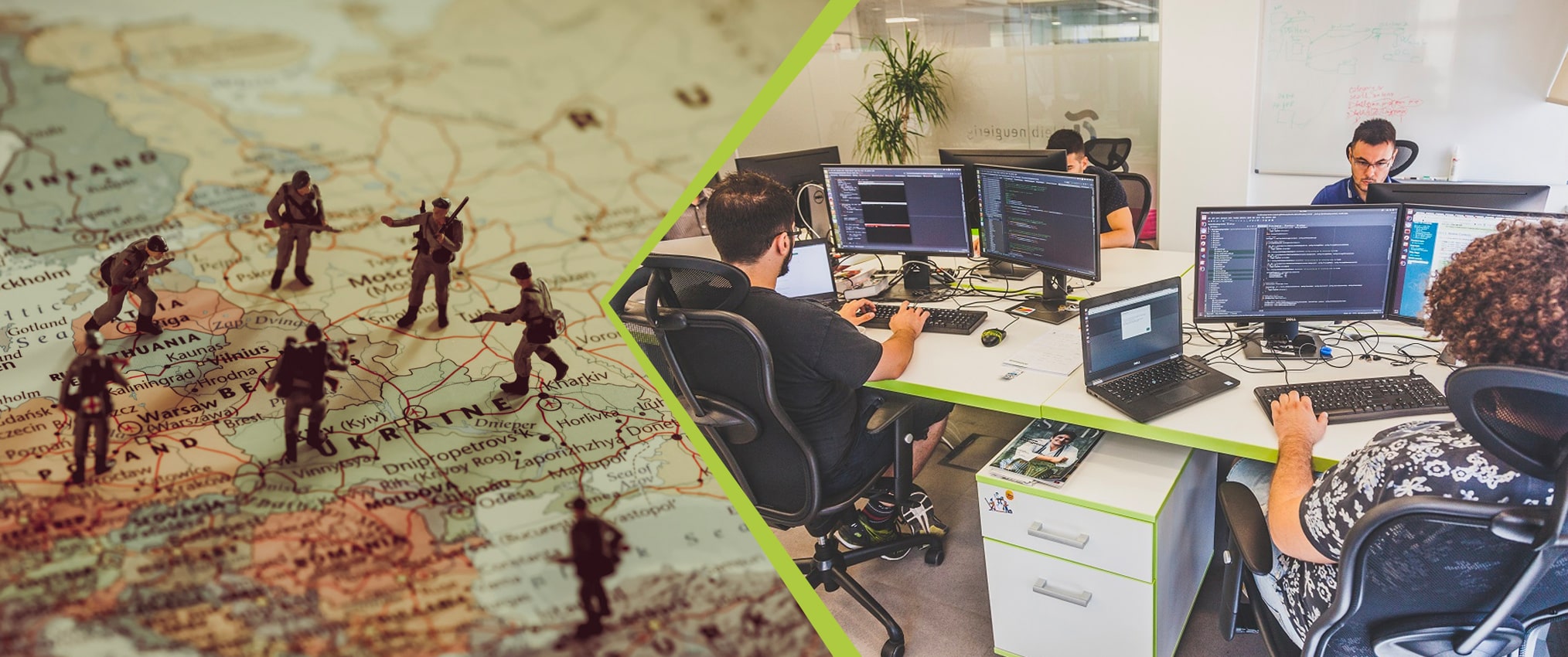 The Ukraine is the second largest country in Europe and hence, it is home to a booming tech outsourcing industry. But the recent Russian invasion will have long-term consequences for Ukrainian outsourcing companies, especially IT. Ukraine's tech startup scene has a vibrant community of coders, designers, developers and entrepreneurs that is constantly growing. The number of startups in Kiev has doubled. There are currently more than 100 active startups in Kiev alone (the capital) with more appearing every year. Many of these companies employ Russian and Ukrainian coders, some of which may be at risk if Russia takes over Ukraine.
Following the Russian invasion, the Western firms are increasingly moving operations out of the country. The Ukrainian tech outsourcing industry is among the biggest in the world. U.S. companies alone spend an estimated $1.5 billion on software development from Ukraine annually. But the ongoing conflict with Russia and a deteriorating economic situation has left the industry at risk of collapse.
The outsourcing of tech and BPO services from Ukraine may be halted after Russia launched an aggressive war against the country. The outsourcing sector in Ukraine has experienced rapid growth due to its low wages in recent years. After Russian troops led an incursion into the country's east in February, many Ukrainians experienced problems accessing the internet. This is due to severed telecommunications cables in the region. Kerry Hallard, chief executive of U.K.-based trade group, the Global Sourcing Association, said that at one-member business in Kharkiv, 80% of computers had no internet access. "The conflict in Ukraine has huge potential ramifications for the IT industry in that country," said Hallard. "Ukraine is a huge IT delivery nation, and its technology workers support not only the banking and insurance sectors but telecommunications and other financial services operations as well."
Tech companies in Western countries are closing their offices in Ukraine
Companies such as SAP SE, Fiverr International Ltd. and Wix.com Ltd. say they provide jobs in the region. Companies that have outsourced talent to Ukraine could experience disruptions if the nation cuts Internet access to foreign technology firms. SAP said it had closed its Kyiv office and was taking steps to secure its employees' safety. Wix has transferred employees to remote locations in Poland and Turkey. Fiverr moved most of its Ukraine-based workers to remote locations within Ukraine. Revolut said it offered financial support to workers who wished to relocate. Some technologies, such as code, designs, and documentation may become vulnerable in the conflict zone.
According to Ms. Hallard of the Global Sourcing Association, promotion-focused companies are more concerned about longer-term impacts than those focused on sourcing projects for the short term.
Vitaly Sedler, Chief Executive of Lviv, a Ukraine-based consulting and IT service firm Intellias and president of IT Ukraine Association said, "It depends on where the situation goes."
U.S. and European firms are scrambling to back out of software deals with Ukrainian outsourcing companies. Some of which rely on Russian engineers to work on projects for Western companies. Until tensions erupted between the two countries, Ukraine has become an important destination for outsourcing tech services. Companies such as Google and SAP have opened offices, attracted by the country's low labor costs and top-notch tech talent.
In Short…
Ukraine's BPO and tech outsourcing sector — which has grown at a double-digit rate in recent years and offers the best services to customers in Europe and the U.S. — is at risk after Russia attacked the nation.