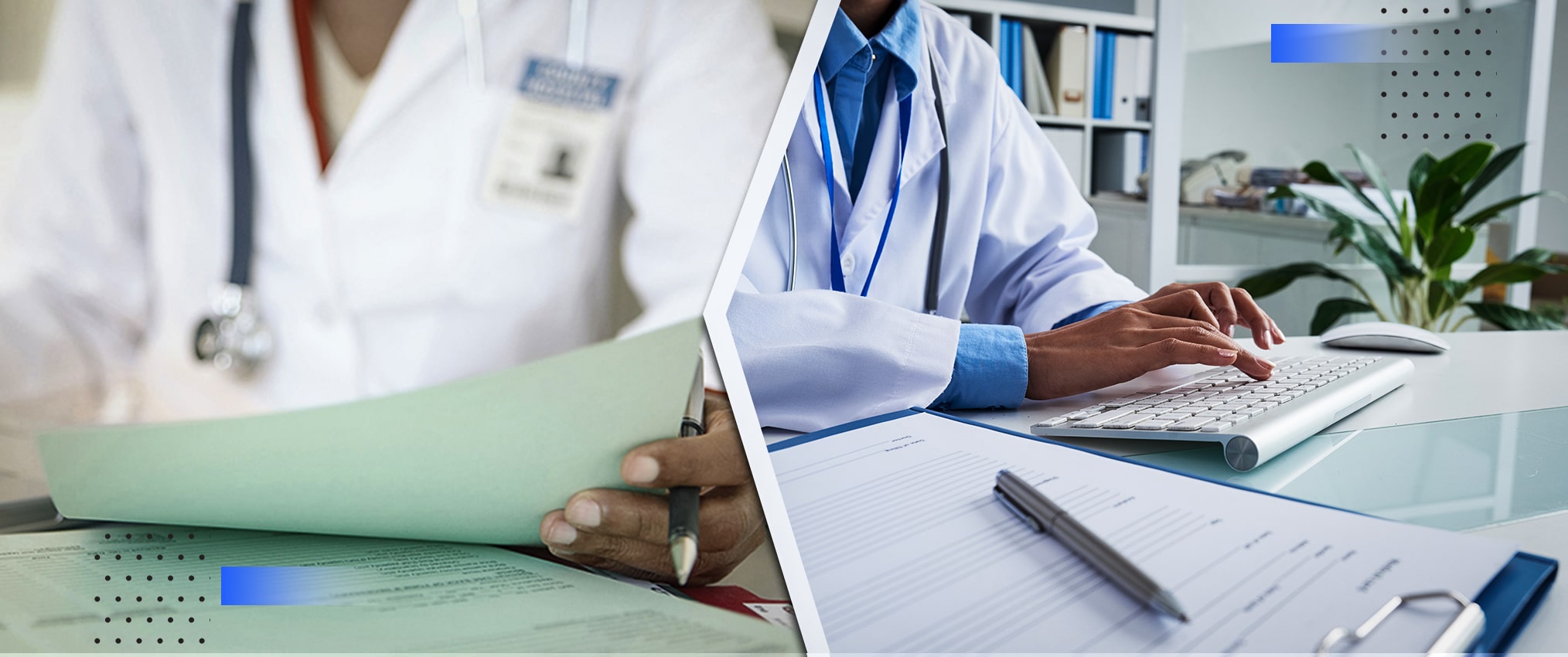 Healthcare workers need to process their documents as quickly as possible. Not like any other industry, the healthcare service department has more relevance in today's world. But when unexpected events like pandemic outbreaks, increased lifestyle health issues, environmental changes all create hurdles for the smooth functioning of in-house operations in the healthcare sector, why can't we use the facilities of document processing services? In fact, it is the best way to improve efficiency in back-office documentation. Let us see how form processing services accelerate the healthcare industry.
What Covers Document Processing?
It is a process through which companies process, verify, and monitor the documents related to the day-to-day operations of every healthcare business firm. These documents include medical bills, insurance claims, lab reports, patient demographics, case files, and so on. The data processing services ensure the most advanced tools to collect and store these documents with easy access and retrieval.
How does it Help Business?
Hospitals and healthcare institutions deal with medical documents spread across various departments. These documents need to get processed and verified daily. Handling it is challenging since it requires some basic knowledge to deal with medical data. Experts who can understand technical terms, general methods, and procedures of hospitals can only do this. Also, it is time-consuming and tiresome. Hiring or assigning in-house staff to manage it will be an extra burden and waste of effort. For instance, the effective utilization of available resources is essential to ensure the patient gets the best treatments. What data documentation services do here is undertake back-office documentation processes. They bring time-bound results with the best quality. We can move on to more precise details.
It Helps to Reduce Time Delays
Healthcare services need to act immediately in need. The slightest delay in processing healthcare forms can cause serious troubles in ensuring healthcare facilities. In fact, that may cost someone's life. What document processing services will do here is, improve efficiency in doing this work with a team of experts having enough experience in the specific area. On the other hand, in-house health workers who become freer from technical projects can invest more time and effort in treating the patients.
Ensures Minimum Claim Denials
Providing insurance assistance has a major role in providing healthcare assistance. Since patients will face challenges in meeting financial requirements to get medical services, their reliance on medical claims is high. Here, healthcare companies must take good care in processing, verifying, and availing insurance claims for consumers. If they fail to do so, it eventually leads to losing trust that causes business setbacks. The form processing services will handle this and ensure error-free processing of claims and maintain a minimum claim denial rate.
Availing Digitization
Companies in every business area, interestingly in the government sector too, implement complete digitization. What they aim with this is getting better operational efficiency and fast transfer of data in back-office documentation. For example, a health worker can save a lot of time by accessing a medical record digitally instead of searching it in a store room. Digitization services can scan paper files and convert them into digital copies and store them in secured systems. As a result, health workers can access them effortlessly. In addition, they can reduce storage space for keeping medical records physically.
Advanced Techniques to Enforce the Process
Converting physical files into digital copies seems easy, but it too requires manual effort and considerable amounts of time. But digitization services that use advanced automated tools like Optical Character Recognition (OCR) will directly extract data information from physical files and process them into convenient formats. The best document scanning services use such tools and help to reduce error occurrence in dealing with it manually. Remember, a slight error with a medical record may lead to having serious impacts on healthcare treatments.
Reduces Money Wasting on Form Processing
Reports suggest that each healthcare company wastes 6-7% of its operational costs on challenges faced in form processing. It compels healthcare organizations to raise charges and makes an extra burden for the clients. But document scanning services, by reducing human involvement in form processing, error analysis, verification, and validation, make the process more cost-effective. The net result will be getting more transparency with prices, and it will make the clients feel worth paying for your services.
Focusing on several BPO services like data entry, data processing, and data analysis, offshore India Data Entry has the best reputation in assisting healthcare organizations with data documentation services. We prioritize quick turnaround times without compromising quality. Drop a mail to [email protected] to know more.