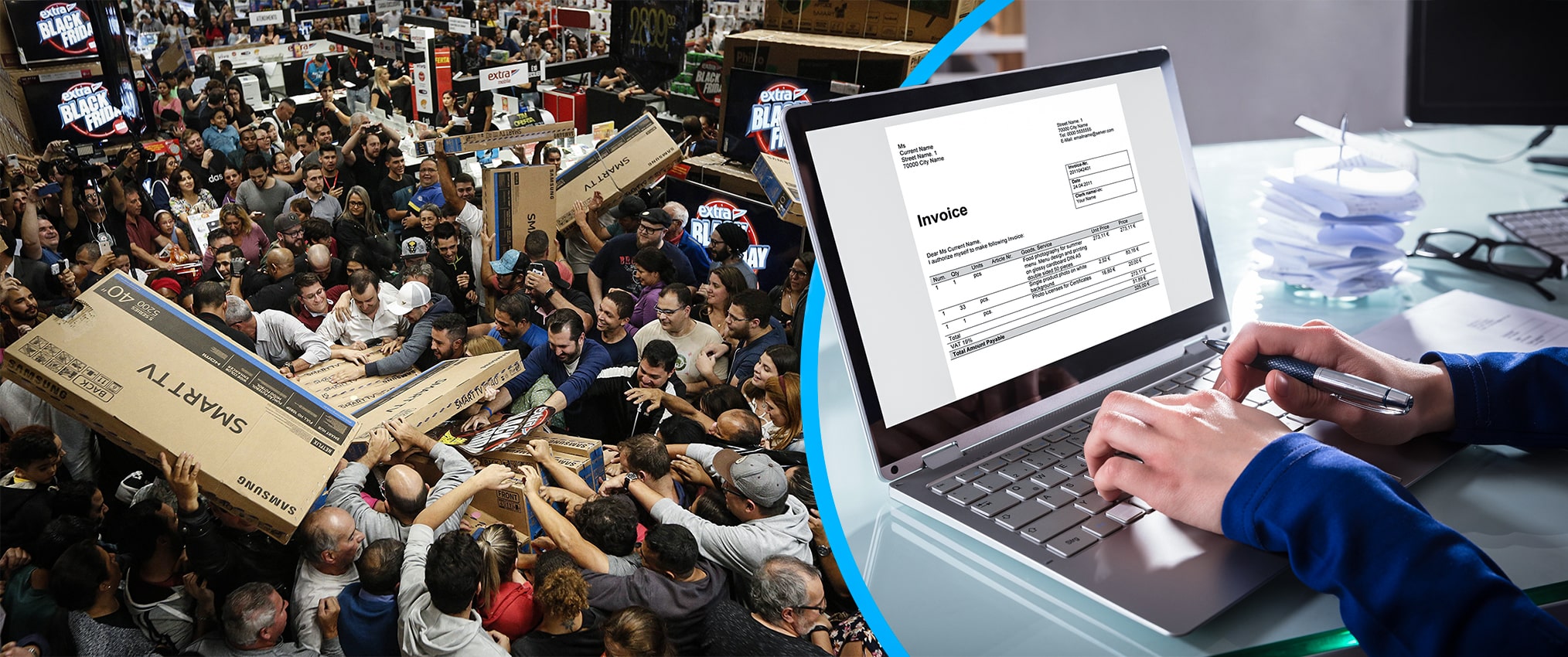 Consumers are anticipating Black Friday. It comes after a long Covid19 period in which everyone stayed at home. Also, it comes at a time when consumers moved more towards digital channels and online purchases. In fact, the digital revolution has made tremendous impacts on consumer trends, especially after Covid19. A BPO company has more relevance here as they help businesses to attain more operational efficiency. With an enormous amount of invoice data and bills are to get verified and processed, invoice billing services have a lot to do during Black Friday.
Black Friday and Consumer Trends
'Black Friday' gained popularity since the week after Thanksgiving day began to create hectic traffic and shopping needs. By welcoming Christmas, it is a week with enormous anticipation for various companies and organizations. Philadelphia police department was the one who first used the term 'Black Friday' referring to the heavy vehicular traffic produced by it. In any way, it is a week that consumers and retailers never need to miss.
Like we have seen, consumer trends are shifting more towards e-commerce where they get attractive rebate offers. Also, they find it an easier way for purchases. Consequently, companies must develop effective strategies for handling invoices and bill processing during these days. BPO services can help collect and process invoices that pile up every day. It will help and manage the business back-end documentation works with less hassle.
Assisting Invoice and Bill Processing
With back-end service assistance, let us see how BPO services can help handle the enormous consumer needs of Black Friday.
Companies work overtime during Black Friday to ensure the maximum sale and customer interaction. The less time they spend on dealing with technical projects like bill processing, it helps they make better the customer interaction. Also, they can develop advertisement strategies, gift guides, consumer contests, rebate offers, and many more to reach more heights with their sales.
With the remote working facilities offered by invoice data entry services in other parts of the world, companies in the US can get around-the-clock assistance in managing back-office projects. They can work online and offline when 93.2 million people shopped online in 2019. In fact, India is a place that is rich with technical experts and has a time zone difference of 12 hours with the US. It helps invoice data entry services in India to work when their clients sleep. As a whole, utilizing the facilities of remote working is a necessity and a wise strategy.
Creating Database with Invoices and Bills
Invoices and bills contain valid consumer data that can get used for future needs. By assigning in-house staff to collect and verify the database is challenging where BPO services can be the best solution. They can maintain regularity in their documentation procedures and allow you to monitor the process. Their teamwork can ensure the fast processing of invoices and store them securely. They make sure that it is getting done within the time limits.
Error Checks with Technological Innovations
Even though invoice processing during a hectic business weekend is immediate in nature, you cannot compromise on data accuracy. On the other hand, manual verification of each bill and invoices are tedious and impractical. Here, updated tools of automation and data extraction can help invoice data processing. They can minimize errors to a great extent with a couple of clicks and save a lot of human effort spent in this regard. Avoiding silly errors will bring more trust among consumers too.
Fast Response to The Market Needs
Even though companies will prepare to confront the busy weekend, challenges may occur in managing the fast processing of invoices and bills. For instance, studies say that the worldwide e-invoicing market is estimated to reach 5.50 billion USD by 2027. With that growing market need, companies must invest more time in developing data-driven strategies efficiently managing back-office jobs. It will only make them stay ahead of their competitors.
This year's Black Friday is a special one for many reasons. It is the first consumer weekend that we wish to celebrate with a crowd after the pandemic. So, companies must have to get prepared to deal with the enormous changes that occurred in market needs. For that, they must develop strategies to minimize human involvement in technical projects and invest more human intelligence in core business areas.
Offshore India Data Entry can help you with a wide variety of outsourcing projects that include invoice bill processing services. You can reach us by dropping a mail at [email protected]  and get the best experience of outsourcing.