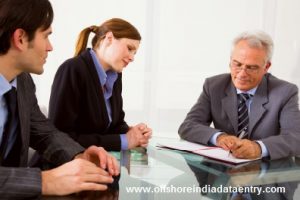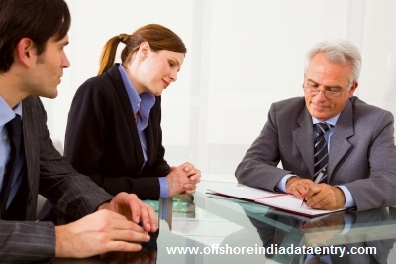 Most of the foreign countries like US and European countries are opting India for their off shore back office services, gradually India is becoming a global hull for offshore back office services. But there are many competitors for India in this field of outsourcing like China, Mexico, Ireland and the Philippians, still, India manages to outmaneuver all other competing companies and emerge to the top. Some favorable government policies, immensely talented and experienced workforce or expert professionals, fast developing infrastructure and many more contribute to India' top rank. Let's have an elaborate look to find more about why India remains the superior outsourcing destination. Let us discuss on why outsourcing is beneficial to companies and business organizations.
Benefits connected with considerable cost savings
The main reason why most foreign countries outsource their works to India is that the outstanding value saving that firms are able to do. The American or any developed nation's in house staffing is very expensive, for the reason the cost of living in these developed countries much higher when compared to other developing countries. For example, you will be paying taxes for cubicles, computers and other hardware devices, health insurance and liability insurance and also for each staff members salary. Outsourcing to India helps you to cut down the cost labor charges. There is also a significant variation in the payment mode for professionals in developed and developing nations. Say for example, the skilled professionals in America will charge $50 to $80 per hour, but there is considerable difference of 50% for skilled Indian professionals. At the time when you can't afford a high payment, you can hire India's flexible pricing outsource services.
Benefits in Fill the skills gap
The most difficult task for an organization or global companies is to find skilled, appropriate, right talented and right professional of there work process needs. Offshore outsourcing to India helps you to seek out the correct, skilled and proficient professionals of your choice. The studies and surveys are showing that, among 1.2 billion populations in India 3.1 billion are graduates and hold their degree from world's finest universities. Even though culture and language are remaining as a major barrier between nations, India breaks these barriers with professionals who speak better English than other outsourcing nations. Keep in mind that business is not steady; changes can come to your way at any time. So it is necessary to be adaptive to the changing technology. India's skilled professional set are keen and sharp in keeping them updated with the evolving technologies. These innovative professional groups can really contribute a great to your business.
Benefits in Dealing with visa shortage
Most foreign countries find hard to recruit India's skilled professionals due to the visa shortage. The reason for the visa shortage is that the per year allotment of 65,000 visas will be exhausted within the very first few weeks, and the consequence is that the companies need to wait a long time for example they should wait until the next fiscal year. The cleverest solution for this problem is to outsource the work to the particular and let them do the job in a remote location and there is no need for the professional s to reach the onshore and do their tasks. Whether they are available in onshore or offshore Indian professionals will provide you the best out of them. India's skilled, educated, innovative, and technically skilled and computer literates will provide you the best quality and flexible services until you achieve your goals.
Leverage numerous benefits
Apart from the above mentioned services there are a lot of other benefits in outsourcing India such as:
Other Advantages of Outsourcing
Quick time to market

Global confidence

More scalable

Core business focus
Offshore India Data Entry, offer the short time to promote, because of the time zone difference between the countries. The 12 hours time differences helps you complete your work earlier than the expected time. The result will be greater efficiency, increased productivity and more time to focus on other important tasks.
India remains as the world's favorite hub for business process outsourcing, for the reason, it has achieved the global confidence with major players such as HP, oracle and many more. India's services assure a confidence of gaining access to superior talents and this attracts most companies across the globe.
The dynamic nature of business warns you to keep enough resources and man power with you to adapt to the changes. Outsourcing helps you to get resources and services globally at the time of need.
Outsourcing helps you to focus on the more crucial task of your business.
Handover routine work
Stop spending time for doing time consuming tasks like book keeping, online research, network monitoring, hardware maintenance, managing mails and many more. Start outsourcing to virtual assistance and let them assist your business from remote location. Utilize your staff and resources for focusing on to the crucial business functions and let you increase your business value.
Hire virtual assistance from India and enjoy cost effective, scalable and high quality services. For more information, solutions and feed backs contact us.
Let us discuss few direct and indirect benefits  of outsourcing

Sustainability of outsourcing companies marks with its enhanced business support services. Especially when global economy goes into most fluctuated vulnerabilities business process activities especially promotion and marketing phases demands more dramatic needs included with business supply chain managements, boosting of customer engagements, promotion phases needed with different popularity signals etc.
But the level of efficiency in process deliveries aggregates in higher demands in business process managements. The quality assured by BPO service providers always peak up the cost efficiency approaches adopted by corporates.
There are many direct and indirect benefits of outsourcing any business process.
Control capital costs
Increase efficiency
Reduce labor costs
Start new projects quickly
Focus on your core business
Level the playing field
Reduce Risk
Have you checked some difficulties connected with outsourcing any business process ?
Yes there are many problems connected with outsourcing connected with:
Management
Quality Control
Taxes
Liability
Complexities in Relationships
Common Reasons for Companies Outsource
If we systematically analyze the reasons why companies outsource their business process activities, there are wide range of doors opening to extreme areas. Big companies from developed countries like US, UK, France, Germany are facing huge financial imbalances due to global recession. So their staffing establishment and labor costs in managing in house staff are very difficult. But when they understand the possibilities of outsourcing and when aware about the cost effective management secrets offered by offshore outsourcing they start outsourcing their business process management and operation task to offshore outsourcing service providers in India. Where big majority of population is qualified with special skill in business process activities such as data entry, data processing, and all other business support services.
If you like this post and understand why outsourcing is beneficial for companies, feel free to share your thoughts with us. All of your comments and responses are valuable for us.